Meet Chef John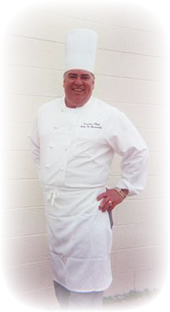 Chef John Bendzinski, with over 25 years of culinary experience, opened the doors of Capital Banquet Center in Washington, Michigan, in June 2001. His experiences began at the age of 12 working for Club Venetian in Madison Heights where he discovered his love for cooking.
Chef John is a gourmet chef by formal education. He trained under Geffrey Gabriel, who is one of 52 Master Chefs in the world, at Grosse Pointe Yacht Club. Chef John also held chef positions at the Detroit Yacht Club and Mario's of Detroit. His experiences include serving as the Food and Beverage Manager of the Dearborn Country Club as well as managing Canteen Foods in the Detroit Federal Building.
Capital Banquet Center grew by popular demand from Chef John's off-premise catering service, JB's Kitchen. Specializing in creative custom menus and off-site catering, all meals are made from scratch with only the freshest meats and produce. From Hawaiian Luaus, to Grilled Beef Tenderloin w/Wild Mushrooms, Zip Sauce & Cognac, to Gourmet Hamburgers—his wide array of menu items can be customized to make any occasion special.

Although Capital Banquet Center is only eleven years old, the reputation of the local place with fabulous food is spreading quickly by word-of-mouth. You'll find John Bendzinski, owner and head gourmet chef, tending to each detail personally to ensure that quality and service are beyond the expectations of his guests.
He is married to Michele and they have five beautiful children. John is active within the Romeo-Washington-Bruce-Chamber of Commerce, Knights of Columbus, local charities, and churches.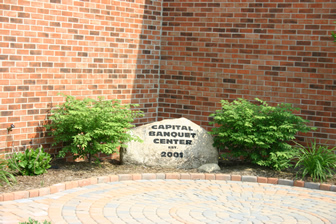 Meet Marilyn, CWP
Wedding and Event planning sparked Marilyn's interest when her son announced his engagement, and they found themselves stepping into the "realm of the unknown." After retiring from the classroom, she was ready to take on a new challenge. No novice at planning large banquets, Marilyn nevertheless recognized the need for expert help to make this very special wedding come together. She enrolled in a comprehensive class on wedding planning sponsored by the Wedding Planning Institute. After many grueling weeks of study and research, she earned the title of Certified Wedding Planner (CWP).

As a Certified Wedding and Event Planner/Coordinator for Capital Banquet Center, she has the knowledge, experience, and work ethic required to make your wedding or event of any nature one that you will remember with pleasure. Allow her to alleviate the stress and jitters so often associated with the lack of experienced planning. The combined skills, experience, and work ethics of Marilyn, Chef John Bendzinski, and the Capital Banquet Crew will ensure that your special day will be just that. Details make the difference!